A safe is where you store your valuables, which means it needs to be absolutely secure. If your safe isn't functioning as it should be, D & B Lockworks LLC will restore its integrity and security. Or, if you're dealing with safe locks that are too secure and you can't get into it when you need to, we can help with that too! We offer safe services in Evans, Greeley, and Weld County, CO for the following styles of safe:
Traditional turn style
Vintage
Combination
Pin / keypad
Learn More
Our experience and capabilities are second to none when working on safe locks. In fact, we have unique skills and certifications that other locksmiths don't. The result is a peace of mind for you, as one of our qualified professionals handles your safe's needs:
Unlocking: Keep putting in the combination but the door won't open? Give us a call and we'll get to the bottom of the problem. We have experience unlocking all types of safes, from traditional turn-style units to modern keypad safes.
New combinations: If your safe's combination has been compromised, we'll reprogram it. When we're done you'll know exactly what the new combination is, and you'll be the only one who has it.
Repair: Dealing with push-button or keypad failure? We're seasoned in all forms of safe repair in Evans, CO. Let us address your access issue and leave behind a safe that works perfectly, while remaining totally secure.
Cleaning: Keeping your safe working properly means keeping up on its maintenance. We can grease gears, bolts and mechanisms to avoid breakdowns and lockups. We keep your safe in great shape, so it's accessible when you need it to be.
Tidell Safe Certified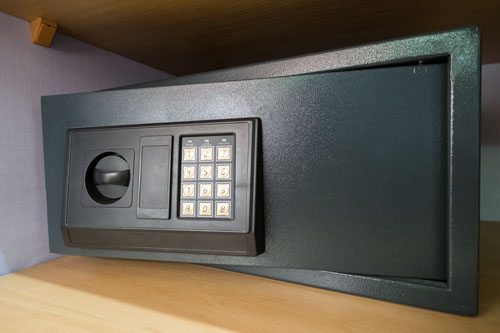 Not all locksmiths are certified to work with certain safe locks. Before you call someone to open or service your safe, make sure they're properly credentialed and accredited.
D & B Lockworks LLC is proud to be Tidell Safe Certified. This means we have the know-how and authorization to service any Tidell safe, commonly found in businesses. Thanks to our Tidell Safe Certification, we're authorized to order parts for any Tidell product and access the Tidell Support Community. Other locksmiths simply don't have these resources!
Trust the Best
Put your safe in the hands of an expert that's credentialed and experienced. Whether you need your safe unlocked, reprogrammed with a new combination, repaired or cleaned, D & B Lockworks LLC will make sure the work is done right. Contact our residential, commercial, and automotive locksmiths today at 970-330-1030.